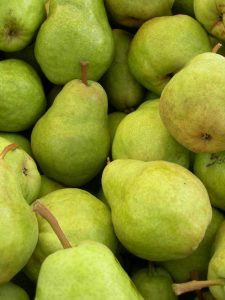 Auburn University researchers are studying the most resistant varieties of pears for combating fire blight in Alabama.
A publication by Alabama A&M University and Auburn University describes fire blight as a common and destructive pome fruit disease in the Southeast. "The fire blight pathogen … is a rod-shaped bacterium that overwinters in tissues around the edge of cankers on large branches and limbs," sates the publication. "A gummy, amber-colored discharge oozes from cankers during warm, humid weather."
Elina Coneva, an Extension specialist and professor in Auburn University's department of horticulture, said 11 Asian pear and seven advanced cultivars of European pears are being compared in studies to find the most resistant fire blight varieties.
Looking at the current-season data available from the research, Coneva said the European varieties were slightly more resistant to fire blight than the Asian varieties tested.
This research can help growers determine which varieties will flourish in their area. It will also help them combat fire blight in the most effective way possible: by planting resistant cultivars with high productivity and excellent fruit quality for sustainable fruit production.
Since this is only the third year for this study, the data are not entirely finalized, but Coneva said results do look promising for growers. She is optimistic about both the quality and quantity of the fruit produced from this study.
"We got some of the cultivars with exceptional crop load this year," Coneva said. 2018 is the first year a full crop is expected from the European pears study.