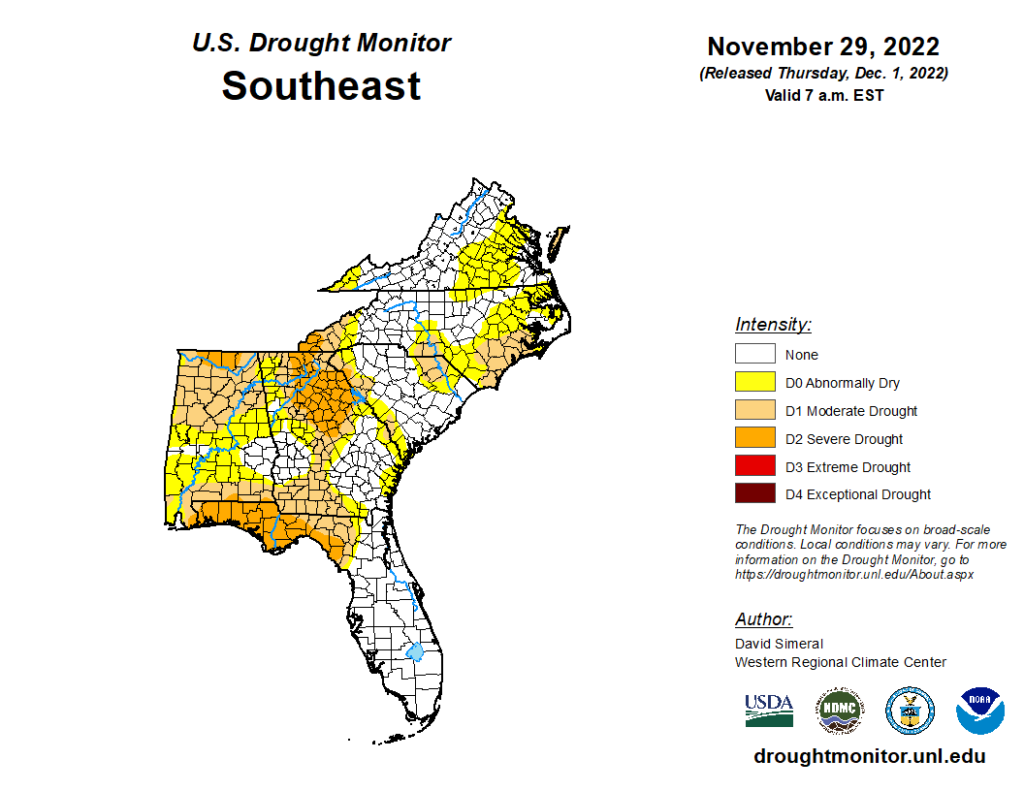 Drought-like conditions continue to be observed in the Southeast, especially in Alabama, Georgia and Florida, according to the U.S. Drought Monitor.
Most of Alabama is either abnormally dry or moderately dry, though severe dry conditions are observed along southern counties like Baldwin, Covington, Geneva and Houston; and in the northern part of the state in Lauderdale, Lawrence, Limestone, Morgan, Madison and Jackson counties.
Severe dry conditions also persist in northeast Georgia. They start as far south as Twiggs and Wilkinson counties and stretch northeastward to Hart and Franklin counties and as far north as Towns, Union and Fannin counties. The southwest area of the state is mostly moderately dry.
Those conditions start in Decatur and Seminole counties, stretch eastward to Ware and Charlton counties and northward to Bibb County. The east coast of Georgia is abnormally dry.
The Florida Panhandle remains either moderately dry or severely dry. They start in Escambia County and stretch eastward to Columbia, Gilchrist and Levy counties. Parts of Baker, Union, Alachua and Levy counties are abnormally dry.
The southern border of South Carolina is either abnormally dry or moderately dry, while an area in the northeast area of the state is dry, starting in Lancaster and Kershaw counties and stretching eastward to Dillon, Marion and Florence counties.
The wester and eastern regions of North Carolina are classified as anywhere from abnormally dry to severely dry.