By Breanna Kendrick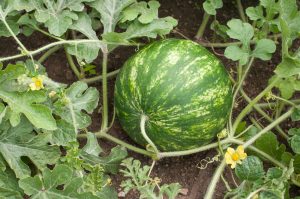 With the heavy rains during the 2018 watermelon season, Georgia growers in the Colquitt County area have seen an increase in gummy stem blight in their melons.
Jenna Kicklighter, a University of Georgia vegetable agent in Colquitt County, spoke with many growers this year about their season.
"Gummy stem blight is the number-one disease growers had the most problems with this year," says Kicklighter. "Some growers have had to deal with anthracnose and powdery mildew. So far, it hasn't been reported that growers have had to deal with a lot of downy mildew. The major issues have been gummy stem blight and fusarium wilt this year."
Precautions growers can take for diseases such as gummy stem blight and others is staying on an aggressive spray program. "Make sure you don't miss a spray as far as intervals of weekly sprays," explains Kicklighter. "Staying on a good spray program and being timely with your sprays is the best thing you can do as a grower trying to get one step ahead of the disease that arises from excessive rains."
According to Kicklighter, broad-spectrum sprays, such as Bravo, at the beginning of the season cover most foliar-type diseases. She says Proline, Quadris and many others are good sprays to protect crops from gummy stem blight, anthracnose, powdery mildew and downy mildew.
Downy mildew is typically a big issue with growers in Kicklighter's area. "So far, I feel like our growers did a really good job spraying. There hasn't been a huge downy mildew outbreak," she states. "They sprayed all the right fungicides in a timely manner, which saved them from having a major problem on their hands."
Kicklighter says that as long as growers are on a good spray program and keep an eye on the weather, they should be able to stay ahead of devastating diseases that arise from bad weather. Growers should keep in mind the weather they experienced this season when it comes time to select new varieties next year. They'll want to make sure they choose good varieties that are less susceptible to these diseases.