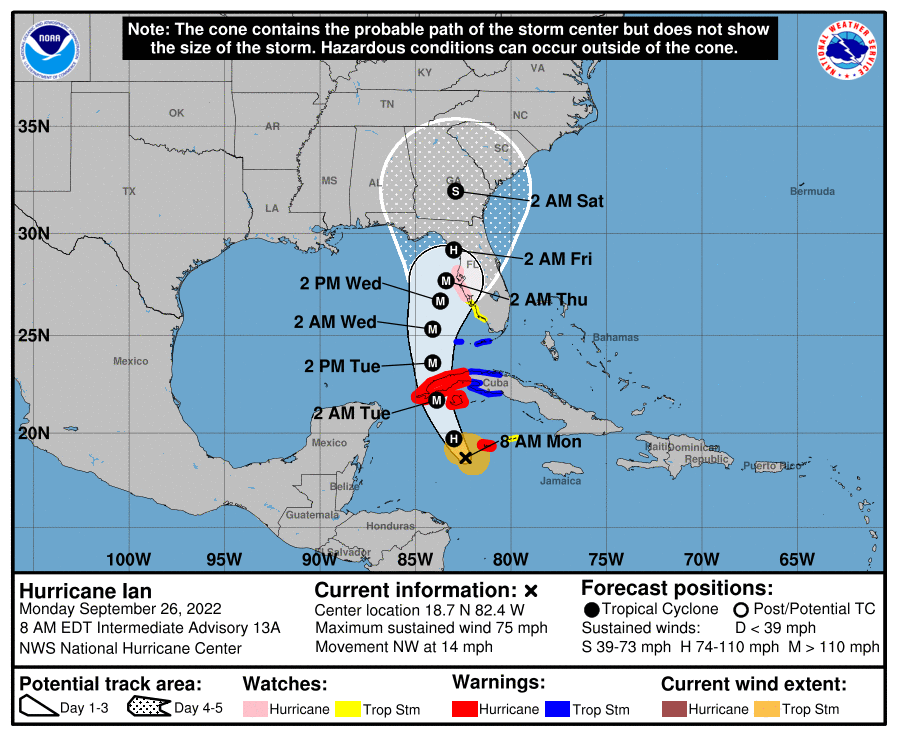 By Clint Thompson
Hurricane Ian's impending path through South Georgia has pecan farmers on heightened alert this week. Though Ian is expected to be downgraded by the time it leaves Florida, it is still expected to bring high wind gusts and heavy rain events later this week and into the weekend.
That is not good news for pecan producers on the brink of harvest, says Lenny Wells, University of Georgia Cooperative Extension pecan specialist.
"I was getting calls and texts, several (Sunday) and some Saturday. The best-case scenario it looks like is that it keeps getting east, and further south it stays the better, for us. I think on the current track it's looking like the center of the cone is coming up a little east of Valdosta. I think it's saying tropical storm by the time it gets there. A tropical storm is better than a hurricane," Wells said.
"There's a lot of volume over (in Southwest Georgia), but there's a lot over in Southeast Georgia, too. Those guys are in the worst position at the moment. Hopefully, it'll keep going east and nobody will get too much wind. I'm just telling everybody right now that make sure their irrigation is turned off and if they have any Pawnees that could be harvested now, I'd probably jump out there and get what I could."
Pecan Varieties
Pawnees are the only pecan variety currently ready for harvest. Most won't be ready for several more weeks.
Pecan producers only have to look back four years ago to see the impact of a hurricane this time of year. Hurricane Michael devastated parts of Alabama and Georgia in 2018, uprooting trees and costing growers yields and profits ever since. Ian's impact should be much less severe but still could be costly.
"When Michael hit Georgia, it was still a (Category) 3. This should be a lot weaker than Michael was. But with the way these trees are loaded we really don't need any wind right now," Wells said. "I had people calling and asking about shaking nuts off the trees and lightening the load so it doesn't break up as bad. But at this point I probably would not do that. We just don't really know yet where it's going to go exactly and don't know what the strength of it will be. It's just kind of a wait and see thing right now."
The southeastern region of Alabama appears to be most at risk once the storm makes landfall. High winds and heavy rains could impact Alabama's pecan crop. It was expected to finally produce a strong crop following Hurricane Sally in 2020.