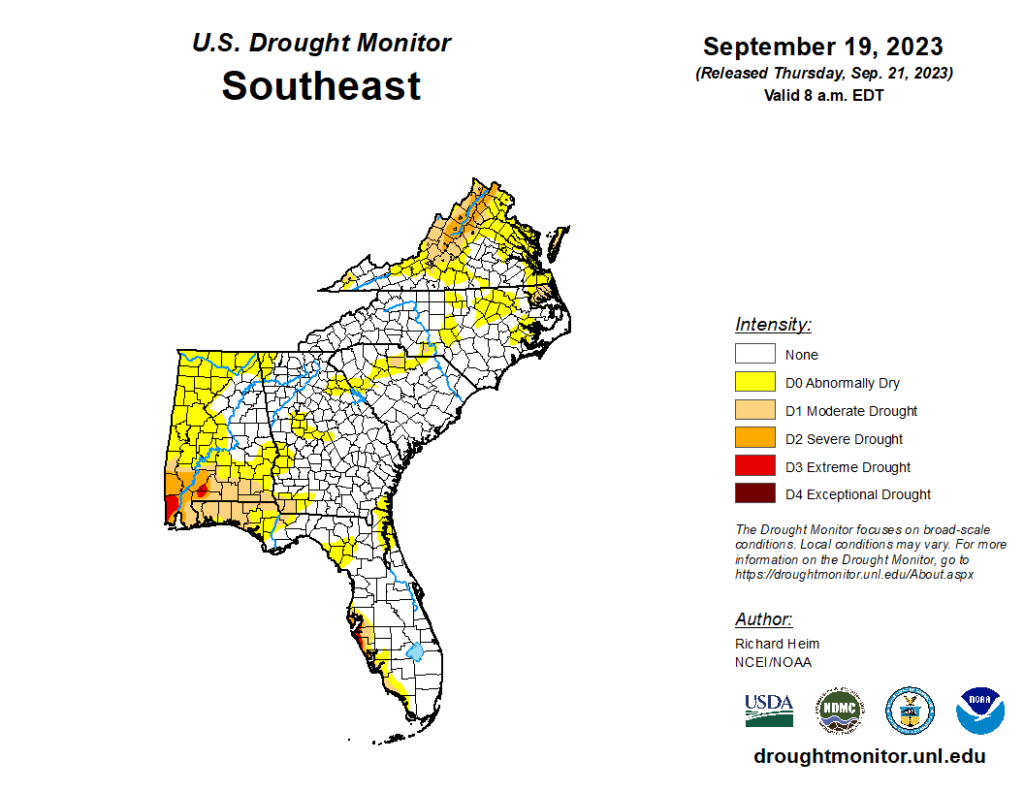 Hot and dry conditions remain prevalent across the Southeast. Drought-like conditions are observed across various areas of Alabama, Florida and Georgia, according to the U.S. Drought Monitor.
Dry conditions are observed over most of Alabama, from Mobile and Baldwin counties in the southwest part of the state, all the way to Lauderdale, Limestone, Madison and Jackson counties in North Alabama. The worst areas are concentrated in southwest Alabama. Most of Mobile County is in an extreme drought, as are parts of Escambia, Conecuh and Monrore counties. Severe drought conditions are seen in parts of Baldwin, Mobile, Washington, Clarke, Monrore, Conecuh and Escambia counties.
The majority of the drought areas in Alabama are abnormally dry.
Abnormally dry conditions are sporadic across different areas in Georgia, including in the southwest corner of the state. Moderate conditions are seen there as well, including in Seminole and Decatur counties and in parts of Early and Miller counties.
Most of the counties in the Florida Panhandle are experiencing moderate or abnormally dry conditions. It starts in Escambia County and stretches eastward to Liberty and Gadsden counties. Extreme drought remains along the southwest coast in parts of Hillsborough, Manatee and Sarasota counties.