Faster plant breeding is one of the 11 projects collectively awarded $261,723 by the University of Florida Institute of Food and Agricultural Sciences (UF/IFAS) Dean for Research Office to solve practical problems via artificial intelligence (AI).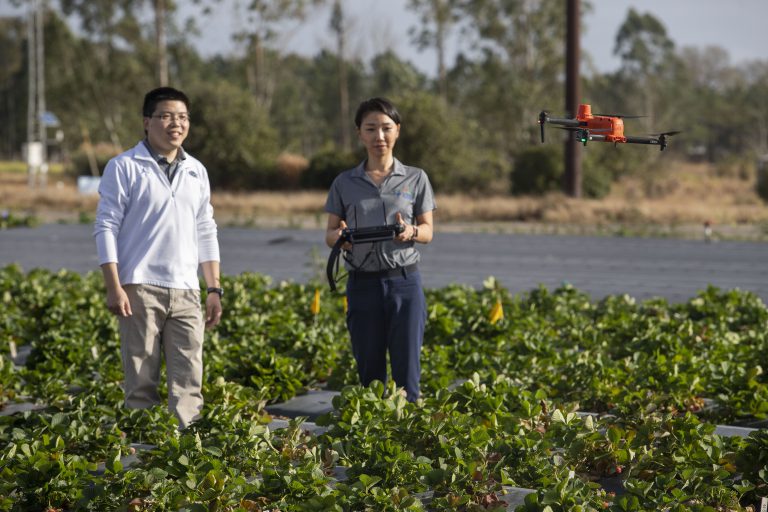 To foster research collaborations in AI for agricultural systems, natural resources and human systems, the office created a program called "Launching Innovative Faculty Teams in AI," or LIFT AI.
A panel including UF/IFAS faculty and members of the UF/IFAS AI advisory board selected the winning projects from nearly two dozen proposals submitted by teams of scientists.
NVIDIA, which provided UF faculty with HiPerGator — the largest university owned computer in the world — will mentor the LIFT AI faculty teams on how to use HiPerGator to analyze data.
"UF/IFAS is committed to unlocking the transformational potential of artificial intelligence to address grand challenges faced by Florida and the world," said Robert Gilbert, dean for UF/IFAS Research and director of the Florida Agricultural Experiment Station. "The AI research projects represented by these awards are innovative examples of the AI research frontier and the breadth of UF/IFAS research programs. There are opportunities for us across departments to advance our mission and help stakeholders."
LIFT AI research will help in many areas, including plant-breeding and improving food flavor.
Genetics hold the key to plant breeding. Faculty in many disciplines – including microbiology and cell science, horticultural sciences and agricultural and biological engineering – will work to breed crops that can survive climate-related issues such as heat and rain as well as pests and diseases.
Projects selected for funding come from 10 UF/IFAS academic departments as well as five research and education centers across Florida. Those pertaining to specialty crop production include:
Title: DeepFlavor: using Artificial Intelligence to predict and understand flavor preferences
PI: Felipe Ferrao (Horticultural Sciences)
Co-PIs: Raquel Dias (Microbiology and Cell Science)
Patricio Munoz (Horticultural Sciences)
Marcio Resende (Horticultural Sciences)
Charles Sims (Food Science and Human Nutrition)
Denise Tieman (Horticultural Sciences)
Research Funding: $14,900
Title: Real-time automated strawberry yield prediction system using color imaging and artificial intelligence (AI)
PI: Wonsuk Lee (ABE)
Co-PIs: Shinsuke Agehara (Gulf Coast Research and Education Center – Balm / Horticultural Sciences)
Yiannis Ampatzidis (Southwest Florida REC – Immokalee / ABE)
Natalia Peres (Gulf Coast REC – Balm / Plant Pathology)
Research Funding: $24,718
Title: AI-driven Phenomics to Advance Plant Breeding in Florida
PI: Changying Li (ABE)
Co-PIs: Heqiang Huo (Mid Florida REC – Apopka / Horticultural Sciences)
Sam Hutton (Gulf Coast REC – Balm / Horticultural Sciences)
Henry Medeiros (ABE)
Patricio Munoz (Horticultural Sciences)
Barry Tillman (North Florida REC – Quincy / Agronomy)
Xu "Kevin" Wang (Gulf Coast REC – Balm / ABE)
Research Funding: $34,984
Title: Fusing symbolic and sub-symbolic AI to lift the ceiling of predictability in breeding systems
PI: Carlos Messina (Horticultural Sciences)
Co-PIs: Diego Jarquin (Agronomy)
Henry Medeiros (ABE)
Research Funding: $20,000
Title: Visualization of Flavor for Breeding Premium Quality and Consumer Liked Fruits
PI: Yu Wang (Citrus REC – Lake Alfred / Food Science & Human Nutrition)
Co-PIs: Fred Gmitter (Citrus REC – Lake Alfred / Horticultural Sciences)
Xu "Kevin" Wang (Gulf Coast REC – Balm / ABE)
Vance Whitaker (Gulf Coast REC – Balm / Horticultural Sciences)
Research Funding: $30,000