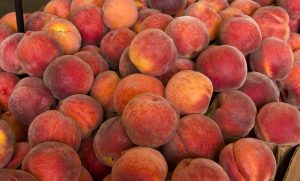 Most of the nation is aware that the Florida citrus industry suffered greatly when Hurricane Irma made landfall in September 2017. The storm resulted in approximately $760 million in citrus damage. In addition, the Florida fruit and vegetable industry sustained about $180 million in loss.
By the time Irma reached Georgia, it had weakened substantially, going from a hurricane to a tropical storm. While the majority of damage was in Florida, many people may not be aware of the harm done in Georgia, particularly to peaches. Phil Brannen, Extension fruit pathologist with the University of Georgia (UGA), said the biggest issue with Tropical Storm Irma was strong winds. "Some of the winds we experienced in north Georgia, even in South Carolina, were sufficient," he said.
According to Brannen, the winds caused some small peach trees to blow over entirely. The winds may have whipped the bigger trees around enough that their root systems could have become compromised. "(The winds might have caused) a lot of tearing of root systems as the trees were blown back," Brannen explained.
It has been almost seven months since Irma made landfall, but growers are still asking questions: What can be done now? What should we have done prior to the storm? Brannen said UGA Extension did send out warnings before the storm hit. Growers were told that they could apply fungicides in order to help reduce diseases coming in with the storm. The main disease Brannen was concerned about was phytophthora root rot.
If the trees have not been compromised too much, growers can apply some products, including phosphonate-type fungicides, advised Brannen. "These (phosphonate-type fungicides) you can actually apply to the foliage. You have to wait for the foliage to develop in the spring, but once you have fully expanded leaves, you can apply these materials, and they do have good control of phytophthora root rot," he said. Brannen added that these fungicides will help plants heal from potential root damage.
The one warning that Brannen had about these products is they have the potential to cause burn. He recommended carefully reading label recommendations for what to combine with the products and what rate of water to use.