By Ashley Robinson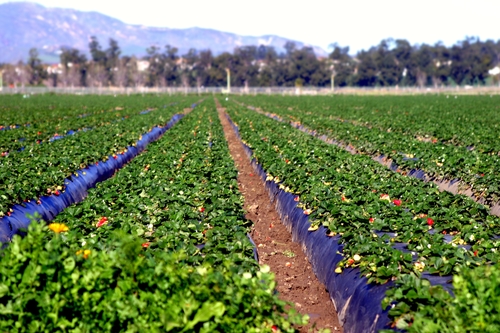 Joshua Mays, regional agronomist with the North Carolina Department of Agriculture, discussed dual-season production of strawberries at the Southeast Regional Fruit and Vegetable Conference in January.
Mays believes the most important factors for growers to consider before starting fall production of strawberries is their market and their ability to market strawberries to buyers that would cost them double the price of traditional spring strawberries. The ability to produce fall strawberries is irrelevant if the grower cannot make a profit off them. "It's very important to tap into a younger consumer base — chefs at nice restaurants, resorts, people who care about the local food system and providing a premium to a farmer who's doing something a little more unconventional," Mays explains.
Mays mentions that the Albion strawberry variety is ideal for this type of production in the Southeast. Although there is quite a bit of Albion production in Florida, the limiting factor for this variety is the availability of plants. "A good relationship with a nursery or plant supplier is very important. The earliness factor of getting these plants in and having them established to achieve this dual-season harvest system is critical," explains Mays.
Runner management isn't something most strawberry growers are accustomed to dealing with, unless they are facing a very warm spring season. However, for growers looking to achieve fall production, Mays says runners are dead weights because they are creating daughter plants rather than fruits. He advises growers to remove runners at least once per month.
"Row covers are going to be essential in this crop," explains Mays. "As you move further into the Southeast, your frost dates are later and later, but it's very important because you're only going to have four to five bloom sets for this crop in the fall. And if you're going to create a market, you have to have a consistent crop. It's critical that you're able to protect those blooms."
Low tunnels are another great tool for dual-season strawberry production. Essentially, a low tunnel is a 30-inch-tall, galvanized tube that has a plastic covering over it that keeps crops dry. According to Mays, low tunnels eliminate the issue of rotten berries and significantly reduce diseases by removing the moisture component from the disease cycle. "It (low tunnels) provides you a six- to seven-degree bump in daytime temperatures, so it just allows you to push those plants even further. On cooler days in the late fall, you can accelerate daytime temperatures for better strawberry growing weather," he says.