By Clint Thompson
Registration is still ongoing for the upcoming Alabama Fruit and Vegetable Growers Association annual conference and trade show, scheduled for Feb. 9-10 in Gulf Shores, Alabama.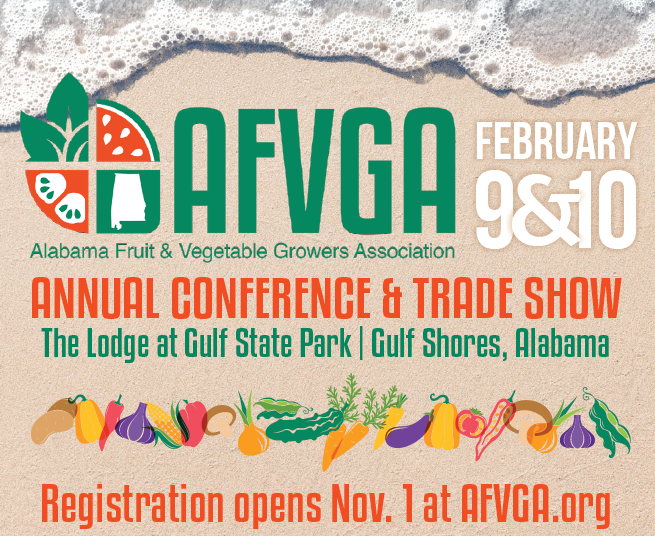 Breakout sessions will cover both days and include presentations from research specialists at the University of Georgia, University of Florida Institute of Food and Agricultural Sciences, Auburn University, U.S. Department of Agriculture, Mississippi State, Noble Research Institute, and also from farmers.
Blake Thaxton, executive director, discussed the conference, which was moved to February for the first time.
"Registration looks real strong. We should exceed registration from our last conference in November, 2021. There's obviously a lot of stuff going on; the new Adverse Effect Wage Rate with the H-2A program; the soaring input prices and all that kind of stuff," Thaxton said. "I think for our group, the Alabama Fruit and Vegetable industry is not as large as some of our surrounding states. Georgia and Florida have more robust industries. We seek to join them at some point and grow that industry. Conferences like this really help accomplish that."
There will also be a couple of workshops held in conjunction with the AFVGA conference. The Alabama Sweet Potato Growers annual conference will be held on Thursday, Feb. 9, starting at 1:30 P.M. It will include a business meeting as well as a couple of production-based presentations.
The Alabama Pecan Growers Association will also host a pecan workshop.
The Alabama Cooperative Extension System Vegetable Team will also update attendees about research trials pertaining to various vegetable crops.