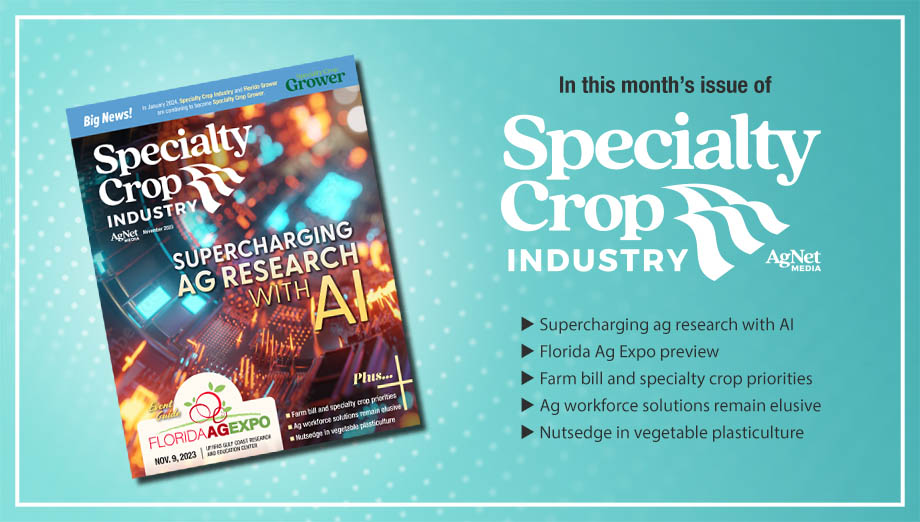 By Will Jordan
The November 2023 Specialty Crop Industry Magazine will be hitting mailboxes and inboxes soon!
Elias Eldayrie, University of Florida Vice President of Information Technology and Chief Information Officer, shares how the hot technology of Artificial Intelligence is set to "supercharge" ag research, improve learning and benefit the specialty crop industry.
Rebeckah Adcock, International Fresh Produce Association (IFPA) Vice President of U.S. Government Relations, highlights Title X of the Farm Bill and how specialty crops are prioritized in the Farm Bill.
Learn more about what the Florida Fruit & Vegetable Association (FFVA) and Georgia Fruit and Vegetable Growers Association (GFVGA) are doing about the U.S. Department of Labor (DOL) and adverse rule imposed by the DOL.
Ruby Tiwari, Ph.D. Graduate Student, and Ramdas Kanissery, assistant professor, both at the University of Florida Institute for Food and Agricultural Sciences Southwest Florida Research and Education Center, share methods and considerations for controlling nutsedge in plasticulture.
Also, in this issue find the Florida Ag Expo event guide and so much more!