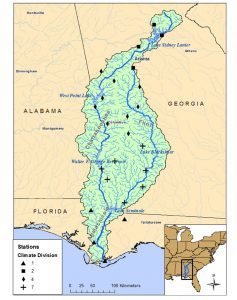 Lawyers for Florida asked the U.S. Supreme Court on Monday to reject a special master's report denying the state relief in its long-running dispute with Georgia over water flow into the Apalachicola River.
"This court has never had a situation where it's recognized a state as being injured. It's recognized that the upstream state is wasting a resource and it's recognized that — and the evidence shows that relief is possible and indeed likely and the court has said: 'Nope, too bad, we're going home,' " said Gregory Garre, a lawyer representing Florida.
But in oral arguments in Washington, D.C., a lawyer representing Georgia asked the court to uphold the report and its finding that Florida did not provide "clear and convincing evidence" that imposing a water-usage cap on Georgia would benefit Florida, including improving the ecology of Apalachicola Bay.
"That's exactly what happened here," Georgia lawyer Craig Primis said. "Florida did not prove its case. It did not prove that caps on consumption would redress their harm."
The case is the result of a lawsuit filed in 2013 by Florida seeking a more "equitable" distribution of water between the states from the Apalachicola-Chattahoochee-Flint river system.
Florida has alleged that growing water consumption in Georgia, including the Atlanta area, is "effectively strangling the Apalachicola region." Georgia has opposed the consumption caps, asserting it would threaten the water supply for some 5 million residents and undermine the agriculture industry in Southwest Georgia.
A key issue in the case is how much evidence Florida had to show during the special master's hearing to prove a Georgia consumption cap could help the Apalachicola River system.
Justice Elena Kagan said Florida had "common sense" on its side in arguing a cap should produce a larger downstream water flow in the region. But Kagan said she was troubled by "a real dearth of record evidence" quantifying the amount of increased water flow and its benefits to Florida.
"It just doesn't seem as though Florida put that into the record, even though you kind of want to say, well, that must obviously be true," Kagan said.
In responding to another justice, Garre acknowledged that Florida had "to show that a consumption cap is going to work."
"I think you have to conclude on this record that relief is possible," he said.
Primis rebutted the "common sense" argument, underscoring the complexity of the Apalachicola-Chattahoochee-Flint system, which includes numerous dams and reservoirs operated by the U.S. Army Corps of Engineers.
"And it is not as simple as if extra water comes in, then you just pass it through to Florida because they have articulated one concern," Primis said. "There are multiple interests in the basin, there are multiple stakeholders and multiple congressionally defined purposes."
In his questions, Chief Justice John Roberts seemed to support Florida's argument that it did not have to show a consumption cap would result in specific changes in the Corps water policies to benefit Florida. Instead, Florida has presented evidence that the Corps would take into account any changes that resulted from a court-approved water distribution policy.
Roberts likened it to a bidding-discrimination case, where someone argues that they were discriminated against, while not having to show that they would necessarily win the bid.
"It seems to me it's asking an awful lot for Florida to have to say: 'We know that the Corps is going to change things the way it benefits us,' " Roberts said.
Justice Stephen Breyer seemed troubled by the fact that the Corps was not a party to the lawsuit, which was a decision made by Florida.
"I don't know what to do without knowing what the Corps is likely to do," Breyer told Deputy Solicitor General Edwin Kneedler, who was representing the United States in the case.
Saying the Corps may now be Florida's "best hope," Breyer asked Kneedler what the justices should do.
Kneedler noted the Corps has just completed a "master manual" to govern water policies in the Apalachicola-Chattahoochee-Flint system, saying Florida had the opportunity to challenge the manual but has not done so.
Kneedler also said any Corps reaction to a court-ordered water distribution policy could be limited by other federal laws governing the regional river system.
"It's not at all clear that the governing statutes … even allow the Corps of Engineers to allocate additional water for the Apalachicola Bay or to do so would be consistent with balancing all the other responsibilities the Corps has," he said.
After watching the oral arguments, John Sheehan, a veteran water-litigation lawyer with the Michael Best law firm, said he believed it was possible that Florida could prevail in its request to have the case returned to the special master for arguments over a water allocation plan.
"I thought going in it was definitely an uphill struggle for Florida because the court would probably be a little deferential toward the special master's report," Sheehan said. "It was pretty clear in the arguments that the court had some problems with the special master's report and they weren't just going to rubber-stamp it for sure."
U.S. Rep. Neal Dunn, a Panama City Republican whose district includes the Apalachicola River, said he was optimistic after attending the oral arguments.
"I think the glass is two-thirds full. It's not full but it's more than half," Dunn said.
"We would like to see the court direct the case back to the special master with instructions to proceed toward setting an equitable apportionment of the basin's water," he said.
He also said a favorable decision for Florida would be "game-changing not just for Apalachicola but everybody in Florida along the river," including Panhandle agricultural interests.
by Lloyd Dunkelberger, News Service of Florida