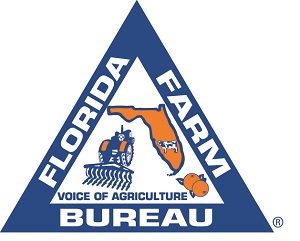 The Florida Farm Bureau held its legislative days in Tallahassee, where it advocated for an "Ag Strong" legislative agenda. Adam Basford, director of legislative affairs for Florida Farm Bureau, was pleased with the turnout at this year's events.
Sporting "Ag Strong" pins, nearly 200 members of the Florida Farm Bureau made appointments with their legislators to advocate for critical agriculture legislation. Priorities on the agenda include funding for the University of Florida Institute of Food and Agricultural Sciences (UF/IFAS), funding for the Florida Department of Agriculture and Consumer Services (FDACS) programs, and hurricane relief and recovery legislation.
UF/IFAS FUNDING
Farm Bureau members advocated for two legs of UF/IFAS funding: workload funding and vetoed projects funding. The workload for UF/IFAS researchers and Extension agents continues to increase. Workload funding would ensure that researchers and Extension agents are able to meet growing demand. It would enable researchers to find solutions to challenges faced by the industry. Then, Extension agents would educate the industry on new production practices and technology. UF/IFAS is currently asking for nearly $4 million in workload funding.
Farm Bureau members also advocated for the restoration of vetoed funds for UF/IFAS. The projects that had their funding vetoed last session were the UF/IFAS 4-H & Family Initiative, Tropical Research and Education Center, Tropical Aquaculture Lab and UF/IFAS Horticulture, Research, Science and Education and PIE Center.
FUNDING FOR FDACS PROGRAMS
Last year, FDACS took some hard hits when it came to funding for its Fresh from Florida and Rural and Family Lands Protection programs. Basford feels that these programs are among the most important on the agenda. He said the Fresh from Florida program is extremely important to Florida growers and needs to be fully funded. Fresh from Florida's budget was cut from $13 million to $6 million in the last session. Now, FDACS is asking for $5 million in general revenue funding to make up for those losses.
John Hoblick, president of the Florida Farm Bureau, said supporting FDACS funding is a high priority for him, particularly regarding the Rural and Family Lands Protection Program, which went from $35 million to $10 million in funding last session. "Agriculture is the conservation arm of the land that's in this state," Hoblick said.
HURRICANE RELIEF AND RECOVERY
It is no secret that Florida agriculture was severely impacted by Hurricanes Irma and Nate at the end of 2017. The industry is still searching for relief from the legislature and how to better prepare for future storms. Regarding rebuilding following the hurricanes, Florida Farm Bureau is looking toward tax exemptions or reductions, as well as short-term loan programs. For hurricane preparedness, Florida Farm Bureau advocated for adequate funding of the State Agricultural Response Team.
Basford emphasized the importance of Farm Bureau's legislative days, which is getting the faces of the industry in front of the faces of the Florida legislature. "Florida Farm Bureau is built to be the voice of Florida agriculture. That's why we were founded in 1941. But, without our members coming up and advocating, then we (the legislative affairs staff) are just lobbyists," he said.
Florida Farm Bureau is also focused on some other issues, including FDACS' Agricultural Water Policy and Agricultural Restricted Truck Tag legislation. Basford added that the Bureau's legislative team is also keeping an eye on possible E-Verify amendments as the Constitutional Revision Committee meets, which he calls "a legislative session in itself."