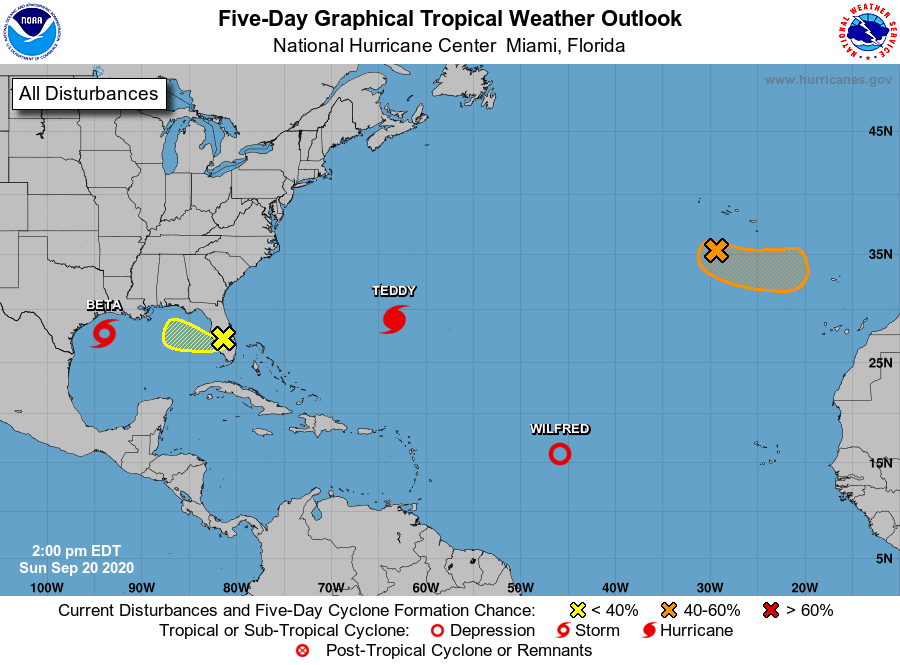 According to the UGA Extension Climate and Agriculture blog, the tropics continue to be active with different systems expected to impact the Southeast this week.
Pam Knox, University of Georgia Cooperative Extension Agricultural Climatologist, said the latest map shows several tropical centers of activity. Wilfred has declined to a tropical depression and should not be a threat to anyone. Alpha (off the map to the east) made landfall in Portugal, bringing rain to that region. Hurricane Teddy is still a category 2 hurricane and is moving northward. It may cross over Bermuda before hitting the Canadian Maritime Provinces later in the week. At the moment the only impact we see from Teddy is very high waves along the East Coast. Post-Tropical Storm Paulette is still hanging out in the eastern Atlantic and has a chance of making a comeback there. And there is a small area of rotation over the Florida peninsula moving west which has a small chance of developing into a tropical depression as it moves over the Gulf.
Tropical Storm Beta is our next biggest issue. It is currently in the northwestern Gulf and is expected to make landfall in Texas before making a sharp right turn and following the coast into Louisiana and then swinging northeast through Mississippi later in the week. It will be another big rainmaker for the areas it passes by. In the Southeast, we are currently seeing some high-level clouds from the storm in southern Alabama and Georgia. By Thursday, we could see some rain from the storm in northern Alabama and Georgia as it moves out to the northeast.