By Ashley N Biles
The new irrigation demonstration site on the University of Georgia (UGA) Griffin campus will be used for training, research and education on the latest irrigation technologies for industry professionals, homeowners and researchers.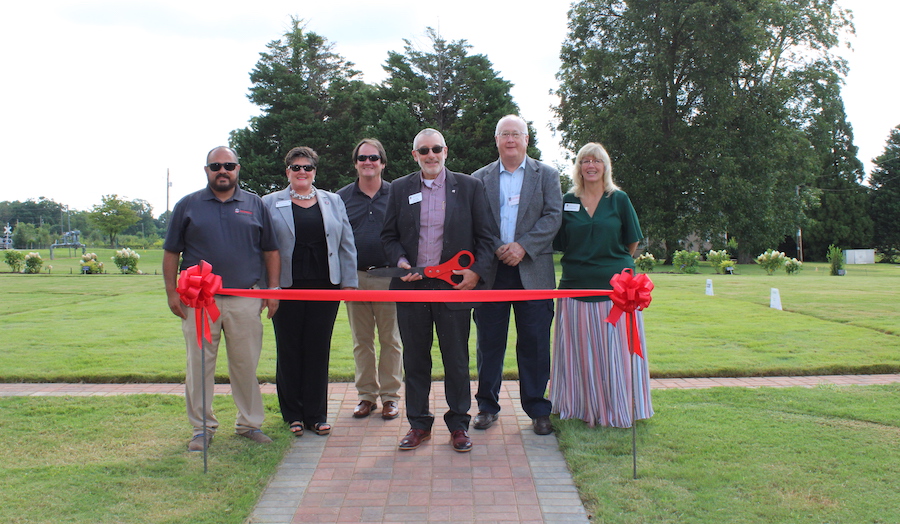 "We are very proud to have the irrigation demonstration site on the Griffin campus and we appreciate all of the hard work that has gone into the project," said David Buntin, interim assistant provost and campus director for UGA-Griffin, in his welcoming remarks for the Aug. 5 ceremony.
The project is the brainchild of Rolando Orellana, urban water management agent with UGA Cooperative Extension in the Center for Urban Agriculture. Orellana developed the idea after a conversation with Reid Garner of Hunter Industries about exploring ways to improve the irrigation and green industries, leading to the creation of a sustainable program that can be used by Extension, industry and the public.
Site Specifics
The site consists of four 30-by-30-foot plots. Three of the plots are designated for investment companies to showcase their latest products and technology and the fourth plot will be used for research by faculty and graduate students at UGA-Griffin. The project is the first of its kind to involve researchers and students as well as the public.
Orellana, who has been working on the project for more than three years, was glad to see it come to fruition. He secured 90% of the funding for the project through sponsor donations – both monetary and in-kind – from the industries involved, with the remaining funding provided by UGA Extension.
"It is a great day because we are finally seeing the idea that started three-and-a-half or four years ago," said Orellana at the ceremony. "Getting the support was key — we are here today because of the great collaboration between industry and Extension."
The demonstration site will allow Extension staff and faculty to demonstrate more efficient options for those interested in sustainable water use.
"We are planning to host landscapers, agricultural agents, homeowners and Master Gardeners who have an interest in water efficiency programs," said Orellana. "It will allow us to show how to troubleshoot issues that may arise and how to achieve water efficiency."
Thoughts From the Dean
Nick Place, dean and director of the College of Agricultural and Environmental Sciences, spoke about the importance of educating the community on water efficiency at the ceremony, noting that the irrigation demonstration site will be a great asset for the entire state.
"This newly installed irrigation system enables Extension agents across Georgia to develop educational programs on water management that are tailored and relevant for their communities," said Place. "Specifically, this site creates a wonderful opportunity to research water management in turfgrasses most common in the urban areas around Georgia. As the only site of its kind in the Southeastern United States, we believe that we're going to greatly enhance our research in water management and technology here and beyond."