By Breanna Kendrick and Abbey Taylor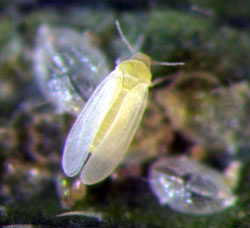 The University of Georgia whitefly team is made up of research and Extension entomologists, plant pathologists and horticulture specialists. All of these professionals are involved in whitefly research across commodities such as peanuts, soybeans and vegetables.
The team is doing research and education on whiteflies and the diseases that they vector. "It's really just to make sure that we're coordinated in activities to try to address the concerns of the growers," says Stormy Sparks, University of Georgia Extension entomologist, who has worked with whiteflies for 16 years.
There are two areas of research that the team is focusing on. The first is the whitefly itself, including its biology, seasonal abundance, how it's moving from crop to crop, what crops it occurs in and how to manage its numbers over time and over space.
Virus interaction, primarily in fall vegetables crops, is the second area the team is addressing. "We're looking at what we can do as far as management, if can we manage it through whitefly," explains Sparks. "It's primarily going to be through plants. That's where we have our horticulturists involved. We're looking for varieties that may have resistance to the virus."
The key point Sparks wants to emphasize right now is crop sanitation — destruction of crops after harvest. If you're not managing crops for pests, then Sparks suggests you get rid of that crop so that the whiteflies are not reproducing without control measures being applied. "When you get rid of a crop and you're no longer managing it, you don't want to allow those pests to continue to reproduce and develop larger populations because that is what is moving into subsequent crops … In Florida, they have whiteflies year round and manage them year round. In Georgia, we start with almost non-detectable levels. They build up a little bit in the spring crops and move to the summer crops. They build up numbers there and then they move to the fall vegetables in overwhelming numbers. From there, they move into winter vegetables."
The team is looking at trying to impair the movement from crop system to crop system throughout the year.
"We've been doing this kind of research for a long time," states Sparks. "It's not a new problem. It's the severity of the problem over the last few years that makes it so destructive … Introduction to viruses has made it a much more severe problem in vegetables, but we've been working on it for a long time. We present all of this information at regional, local and county meetings. We have a vegetable blog where some of the information goes out. We distribute a lot of the information, particularly the more pertinent information, to county agents and they distribute it to their growers, but they can always contact us directly if they want to."