By Gary Vallad, Johan Desaeger, Hugh Smith, Zhanao Deng and Shinsuke Agehara
Like other crops, hops are susceptible to various pests and diseases. The goal of this article is to review findings from ongoing field studies conducted at the University of Florida Institute of Food and Agricultural Sciences (UF/IFAS) Gulf Coast Research and Education Center (GCREC). The presented findings should be considered preliminary observations and are meant to offer some guidance to growers who are considering hop production.
These field studies were supported by the Florida Department of Agriculture and Consumer Services Specialty Crop Block Grant Program, Hillsborough County Economic Development, local brewers, specialty crop industries and allies, and GCREC.
Hop production throughout the United States is challenged by diseases caused by fungal and viral pathogens. Establishing a hop yard with clean plant material is critical for success, as hops are vegetatively propagated, and many pathogens are either systemic or capable of surviving on rhizome tissues.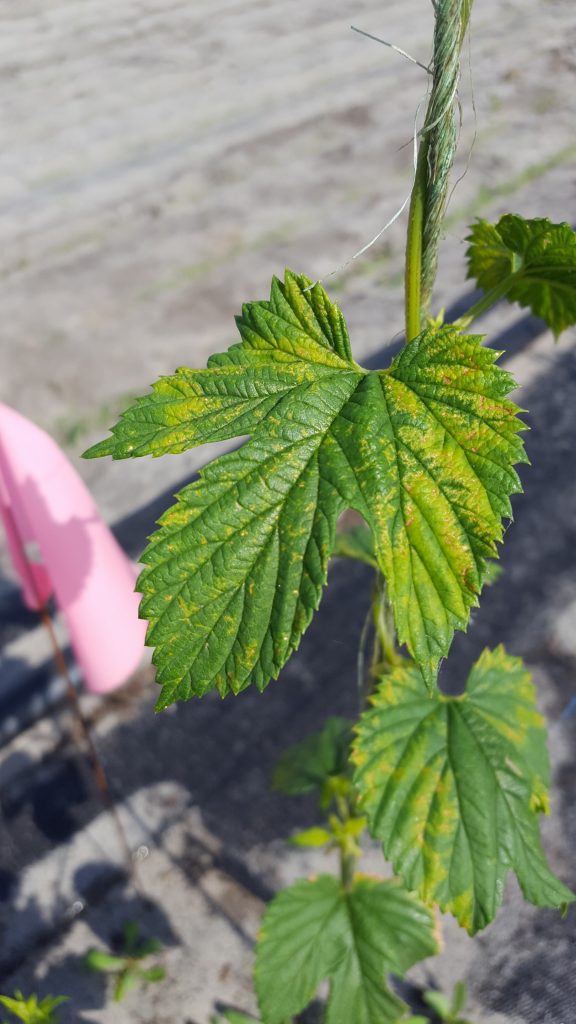 VIRAL DISEASES
The first hop yard established at GCREC in 2016 used propagated rhizomes that, unbeknownst at the time, were infected with several carlaviruses and apple mosaic virus(an ilarvirus). These viruses, as well as several viroids, are quite common in other hop-production areas in North America, can be mechanically transmitted and cause varying levels of chlorosis, mosaic and plant stunting depending on the hop cultivar.
Infected plants at GCREC were removed and replaced with plants derived from tissue culture in 2017. However, prior to planting, testing revealed that some of the tissue-cultured plant materials from one source were infected with the same viruses and subsequently destroyed.
FUNGAL DISEASES
Of greater concern, some of the tissue-cultured plants received from Michigan in 2017 were infected with the downy mildew fungus, Pseudoperonospora humuli. These infected plants were destroyed before the fungus became established. Hop downy mildew, as well as powdery mildew (caused by Podosphaera macularis), cause severe crop damage if left unmanaged. Both pathogens survive between seasons in the infected crowns and buds of dormant hop plants.
These pathogens have historically caused large economic losses in traditional hop production areas throughout North America. Neither pathogen has been observed in Florida hop yards to date. The lack of either disease in Florida is likely due to the limited acreage and the use of disease-free plant materials.
However, Florida's climate is ideal for both pathogens, and would likely favor severe outbreaks if these pathogens are introduced. Although some varietal resistance and fungicides are available, it is unclear whether these management strategies would be satisfactory or sustainable given Florida's unique production environment.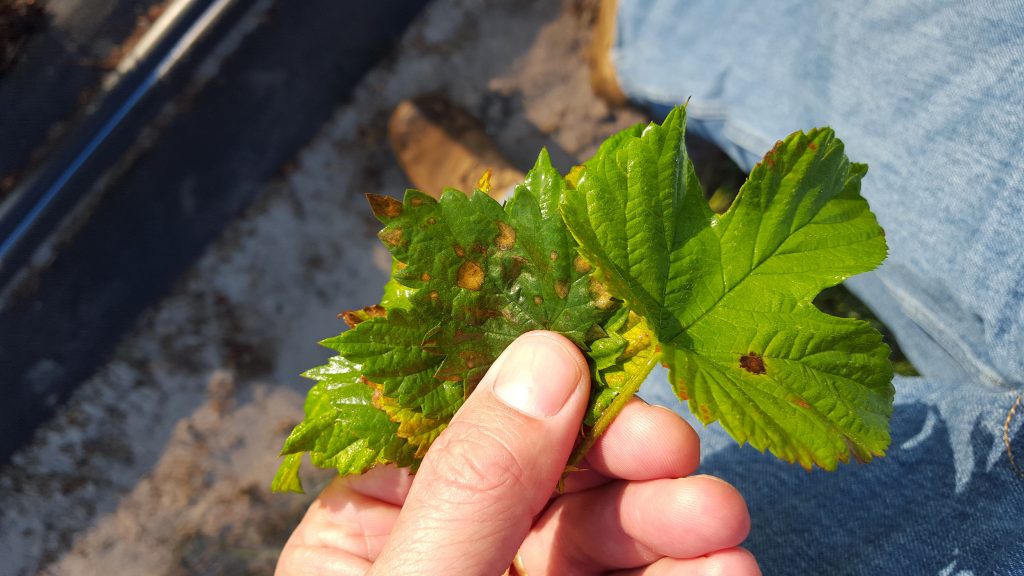 Several other fungal pathogens have also been observed but are mainly considered weak or opportunistic pathogens of little consequence. These include leaf spotting caused by Alternaria and a Cercospora species, which is typically isolated to the lower foliage or wind-damaged foliage.
A blight of lateral stems and cones associated with several Fusarium species was also observed, typically associated with mechanical damage of lateral branches following heavy winds and rain. However, in some instances, the Fusarium infection progressed through the lateral stems and into the bine (main stem), resulting in bine death.
USE SAFE SOURCES
There are many commercial vendors that provide starter plants in the United States. Florida growers are strongly encouraged to get their hop plants from a reputable source within the state that can ensure materials are disease-free. The Clean Plant Center Northwest (cpcnw.wsu.edu/), which is a member of the National Clean Plant Network for Hops ( http://nationalcleanplantnetwork.org/HOPS_CPN/), can provide initial materials that are free of known hop viruses and viroids.
However, materials propagated from a reputable tissue-culture facility should still be tested for viruses. Third-party vendors like Agdia (www.agdia.com) provide an array of test services for hops (agdia.com/testing-services/Hops.cfm). Obtaining tissue-cultured plants produced in Florida also decreases the likelihood that plant materials are infected with fungal pathogens that cause powdery mildew or downy mildew, since neither pathogen is reported in the state.
INSECT PESTS
The primary pest of concern in Florida hops at this point seems to be the two-spotted spider mite (Tetranychus urticae). A number of other arthropod pests have been found associated with hops in Florida, including a complex of caterpillars and stinkbugs. For the most part, these arthropods are associated with hop foliage, rather than the cone. Although at high numbers, they can damage the cone as well.
There are insecticidal options for managing pests on crops. However, given the long-term nature of the crop, non-chemical options are preferable. Many predators attack two-spotted spider mites, and biological control may be a viable option for managing this pest of hops.
NEMATODES
Stunted and chlorotic hop plants were observed soon after planting the first hop trial at GCREC. The stunted plants showed a high degree of root galling and were found to be infected with root-knot nematodes (Meloidogyne javanica). Root-knot nematodes are microscopic roundworms that live in the soil and attack the roots of plants. These pests are very common in Florida's sandy soils and have a very wide host range, including most vegetables that are grown in the state.
Management of root-knot nematodes is difficult, especially on perennial crops such as hops. Chemical management using soil fumigants prior to establishing a hop yard may give some relief, but only for the short term. A more sustainable and long-term option would be to identify hop cultivars that are more tolerant or resistant to the nematode. Interestingly, some hop varieties planted at GCREC showed less root-knot damage than others. Nematode research now primarily focuses on identifying cultivars that are more tolerant or resistant to root-knot nematodes.
CONCLUSION
Hops, a perennial crop, take several years to mature and reach full productivity. In the Pacific Northwest, a mature hop plant can remain productive up to 20 years. Whether such productivity can be achieved in Florida's climate remains to be determined.
The pest and disease pressure observed to date on hops at GCREC has remained manageable with minimal pesticidal inputs. However, as with any perennial crop, time will tell if pest and disease pressure will increase or whether other pests and diseases will become established. As the hop trials at GCREC continue, pest and disease issues will be identified so that optimal management regimes can be developed.
Gary Vallad is associate professor and associate director; Johan Desaeger, Hugh Smith and Shinsuke Agehara are assistant professors; and Zhanao Deng is a professor — all at the UF/IFAS GCREC in Wimauma.
This article was featured in the February issue of VSCNews magazine. To receive future issues of VSCNews magazine, click here.