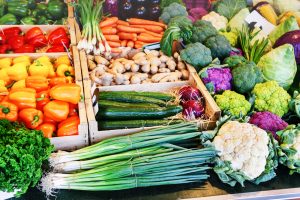 By Abbey Taylor and Ernie Neff
U.S. Department of Agriculture (USDA) official Jennifer Tucker declares organic agriculture to be "a terrific opportunity for farmers and consumers."
"It is a growing market with a lot of great potential," says Tucker, associate deputy administrator for the USDA's National Organic Program.
The USDA has provided guidelines for farmers and handlers interested in obtaining organic certification for their products. Organic certification verifies that a farm or handling facility complies with USDA organic regulations and allows that farm or facility to sell, label and represent products as organic. Certification allows a handler or farmer to use the word "organic" or the USDA organic seal on products.
A LENGTHY PROCESS
If you've been thinking about becoming certified organic, you might want to stop thinking and start doing something about it because you can't switch from traditional to organic agriculture overnight.
Any land used to produce raw organic commodities must not have had prohibited substances applied to it for the past three years. Until that full 36-month transition period is met, products from the land may not be sold, labeled or represented as organic. USDA provides technical and financial assistance during the transition period through its Environmental Quality Incentives Program.
FIRST, FIND A CERTIFYING AGENT
"The first step (to becoming certified organic) is that they (farmers or handlers) identify a certifying agent that they would like to work with," Tucker says. "Certifiers work throughout the country. There are several who work in the Southeast."
A USDA database identifies two certifiers in Florida: Americert International and Quality Certification Services, both in Gainesville, and one in Georgia: Georgia Crop Improvement Association, Inc., in Athens. Certifying agents are responsible for ensuring that USDA organic products meet all organic standards.
The USDA says certification costs or fees vary widely depending on the certifying agent and the size, type and complexity of the farmer or handler's operation. Certification costs may range from a few hundred to several thousand dollars. Typically, there will be an application fee, annual renewal fee, an assessment on annual production or sales, and inspection fees.
"One way to find a certifier is really through the interview process — calling them and finding out what resources they have to support the farmers who are getting certified," Tucker says. "The certifier is a rigorous part of the oversight process, but they're also partners with the farmers. We want everyone to be successful, so certifiers provide resources that help farmers be successful."
After picking a certifier, Tucker says, "They (farmers or handlers) fill in an application with the certifier where they provide a detailed description of their operation. They have to provide a history of the land that they want to produce organically on; how they're going to produce their product; how they're going to process their product. All of this has to be written down in an organic system plan. That makes sure that all the rules are followed in the application process."
According to Tucker, the certifier then reviews those materials to confirm that the operation is planning to operate in full compliance before conducting the actual inspection. "It's a very detailed inspection, where they look at everything the organic farmer is doing and make sure that they are following the rules," she explains. "Once that process is complete, then the farm is issued an organic certificate." The certificate serves as the license to sell products as organic.
ANNUAL RECERTIFICATION
Once the organic certificate is obtained, farm or handling operations "are inspected again every single year," Tucker says. "If they make any changes to their operation that may change their compliance with the rules, they discuss that with their certifier before they implement it, to make sure they're in full compliance."
See http://1.usa.gov/organic-certification for more about becoming certified to the USDA organic standards and to find a certifying agent.
Regional Application of Rules
The process and rules for becoming certified organic by the U.S. Department of Agriculture (USDA) are consistent across the nation, says Jennifer Tucker, USDA associate deputy administrator for the National Organic Program.
But, Tucker adds, "How those rules are applied in a certain environment may differ … The geographic needs of the Southeast are going to be different from the geographic needs in the Northeast in terms of, for example, what kind of pest control measures might be most effective … That's the great thing about working with a certifier in your region, because they already know what those approaches are that have worked for farmers before."


This article can be seen in the August issue of VSCNews magazine. If you would like to receive future issues of the magazine, click here.