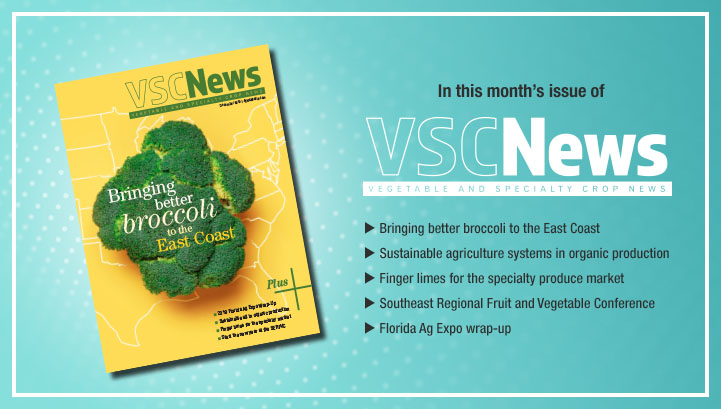 In the December issue, VSCNews magazine is ending the year with new ideas for growers in the deep Southeast.
Broccoli is a staple vegetable in grocery stores across the county, but most of the crop is produced on the West Coast. Researchers involved in the Eastern Broccoli Project are working to change that. From Maine to Florida, vegetable specialists are working to improve and increase broccoli production. Read more about the efforts in Karla Arboleda's article, "Bringing better broccoli to the East Coast."
As organic production becomes more common, Ayanava Majumdar writes about the positive impacts that sustainable agriculture systems have on crops and the environment. He gives tips on how to have a successful organic growing operation.
Citrus packs a punch no matter what size. Finger limes, a small fruit shaped like its namesake, could be the next big thing. The University of Florida's Manjul Dutt, Edward Evans, Jude Grosser and Aditya Singh write about the characteristics and potential of this unique emerging crop.
The December issue also includes a preview of the Southeast Regional Fruit and Vegetable Conference (SERFVC), taking place on Jan. 9–12 in Savannah, Georgia. As one of the largest events for growers in the Southeast region, SERFVC includes educational sessions on a variety of crops and topics as well as a trade show of hundreds of exhibitors.
Finally, in its first time being hosted by AgNet Media, Florida Ag Expo was a hit in November with growers and exhibitors. Attendees talked about hemp with an expert panel, visited the various alternative crops at the Gulf Coast Research and Education Center in Wimauma, and learned all about vegetable pest management and fumigation. Read additional details in the December issue and look for more Florida Ag Expo coverage on VSCNews.com in the coming weeks.