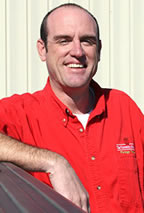 South Georgia vegetable farmers are facing their share of challenges this fall. Between heavy whitefly infestations, increased disease pressure and extreme cloud cover over the past two weeks, producers continue to deal with obstacles during this fall production season, according to Jeremy Kichler, University of Georgia Colquitt County Extension Coordinator.
"When (Hurricane) Sally came through, we got anywhere from 5 to 6 inches. We finally dried at the end of last week," Kichler said. "The weather started getting rainy and misty. (Wednesday) was finally the first clear day we've had in a while. It's been challenging the last 10 days from a weather standpoint."
Sally brought intense rainfall and high winds to parts of Southwest Alabama and Northwest Florida but also excessive moisture to areas in Georgia. With little sunshine to dry fields out over the last two weeks, excessive moisture led to a flare up in certain diseases like PCAP in squash and powdery mildew.
"Anytime you have moisture, excessive moisture, it tends to flare up things. When you have a lot of rainfall like we had, it tends to knock down adult whiteflies, but it also brings on disease problems, too," Kichler said.
Sally's presence on Sept. 16, helped knock back whitefly populations, which was needed. It's the worst whitefly outbreak since 2017.
"Every fall we just kind of hold on tight. We're starting to deal with these whiteflies with more timely insecticide applications. We're getting a lot more comfortable with our management schemes with that," Kichler said. "But it's a still a challenge with silverleaf and some of these yellow squash and zuchinnis."
"We are holding our own. I think prices are pretty good right now from what I've been told. The silverleaf pressure has been pretty bad because of the whitefly pressure that we've had. It's been challenging."