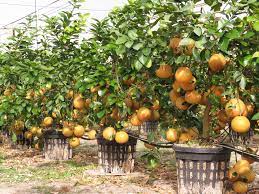 By Clint Thompson
An innovative way to manage huanglongbing (HLB) disease is producing impressive results in University of Florida Institute of Food and Agricultural Sciences (UF/IFAS) research. According to Arnold Schumann, UF/IFAS professor at the Citrus Research and Education Center (CREC), citrus under protective screen (CUPS) production systems have increased yields with zero effect from HLB. He shared research results during a recent virtual citrus production seminar.
CUPS has excluded the Asian citrus psyllid, which spreads HLB, and prevented the disease for six years at CREC. This is significant since the CUPS system is located next to trees infected with the disease and its vector. Schumann reported that the growth rate of the trees in the CUPS system nearly doubles the rate of healthy trees outside.
Ray Ruby grapefruit had the best production compared to other citrus varieties. It possessed good color break with maturity as early as October. The trees stayed in different pot sizes for the first five years and produced a cumulative total of more than 2,600 boxes per acre in each pot size. The total reached 2,975 boxes per acre in 25-liter pots.
"I'm confident that most grapefruit varieties will be very successful in CUPS," Schumann said.
Two rootstocks included in the Ray Ruby research were US-897 and sour orange. The sour orange rootstock in a 35-liter pot produced increased yields every year, culminating in 908 boxes per acre in year five.
"Sour orange was actually a very good rootstock in CUPS," Schumann said. "Fruit size is generally better and so is the general quality. So far, we have not had tristeza disease infecting those trees. The aphids that carry the disease cannot enter the CUPS."
Smaller fruit size led Schumann and his team to relocate all Ray Ruby trees on US-897 and sour orange rootstocks from the pots to the ground in year six.
Schumman noted that for grapefruit, fruit size is paramount. "It doesn't get into a good selling grade if you don't have good fruit size," he said.
Ray Ruby is also being studied in CUPS on rootstock X-639. It is still in 10-gallon pots and producing at high levels, with 1,363 boxes per acre in the fifth harvest. It has produced 4,860 boxes per acre in six years.
Schumann compared the large grapefruit yield from CUPS to traditional production. "If you consider just the marketable fruit coming out of endemic HLB, first it takes about five years to get started and then maintains at best, about 200 boxes per acre. If you figure out how many years it would take for that situation to get to 4,000 boxes per acre, it would take 25 years, easy," Schumann concluded.